Who We Are
Nice To Meet You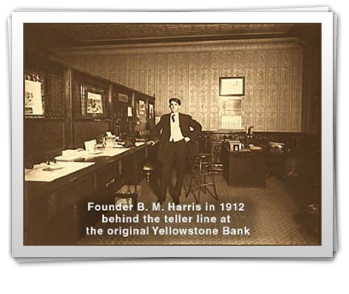 Yellowstone Bank is pleased to bring a full array of highly competitive products and services to the communities we serve. Drawing on more than 100 years of banking experience, Yellowstone Bank has achieved a strong and growing presence in the financial services marketplace.
Yellowstone Bank was founded by B. M. Harris in 1907 and today, after five generations, is still owned and operated by the Harris family. Bank management and staff are committed to maintaining Yellowstone Bank's exceptional level of customer service, stability and financial strength. In an era characterized by industry-wide mergers and consolidation, Yellowstone Bank is proud to remain an independent community bank with decisions made promptly by people who live in the communities they serve.
Our prominence as an active commercial, agricultural and real estate lender has grown along with the success of our customers. Yellowstone Bank takes pride in contributing to the economic growth evident within our communities.
You are cordially invited to consider Yellowstone Bank for your banking needs. We combine our hands on personal service approach with the latest innovations in banking technology to provide you the highest quality in banking services available today.
We are confident that you will discover a new perspective on service excellence and convenience. We look forward to serving you.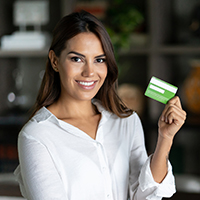 Credit Cards
Put the buying power of the YB credit card right in your pocket with one of our many credit card options.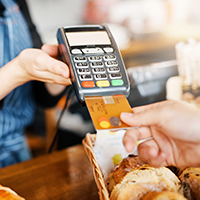 Merchant Processing
Need to get setup with accepting credit cards for your business? We can help!